Condo Security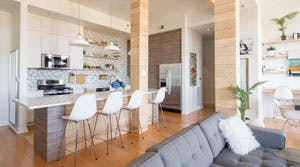 A comprehensive property insurance for your condominium unit's contents and improvements.  This is designed to provide coverage in an event of fire and lightning, acts of nature (earthquake, typhoon, flood) with riot/strike, and malicious damage. Condo Security also features extended benefits including personal accident insurance for you, your spouse, and child(ren), coverage for third party liability, burglary/robbery, firefighting expense, debris removal, rental income, deterioration of stocks, parking slot, accidental breakage of mirrors, and household helpers' personal accident and property damage – due to insured perils.
Coverage
Property insurance
Personal accident insurance
Comprehensive personal liability
Robbery and burglary
Fire fighting expense and debris removal
Rental expense and rental income
Household helper coverage
Sample quote
For a premium of ₱1,200, your unit can be insured for ₱1,000,000*.
*Note: This quote is based on the pricing of Condo Security